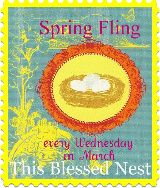 Fabulously creative Kellie, over at
This Blessed Nest
, is hosting a "Spring Fling" party to usher in all things green, glorious and springy! Can I get a woot-woot? What a breath of fresh air it is, to see what everyone is up to in preparation for March 21st. Hello?! Inspiration knocking!!
A few weeks back I bought some yummy fabric.
I was bound and determined to "think Spring". After a couple of successful hours at the sewing machine........
Wa-Laaaa!
Thankfully I had a goofy willing model today...she hasn't been real receptive to the camera lately, so this was a nice change!
"I'll cross my legs, look away from the camera, and hold my fairy wand (with an important piece of tape?!) and hold my pose...how does it look Mama?"
"Get my toes...make sure you get my toes!!"


Now we just need to get Mother Nature on the same page and warm things up a bit around here!